About a month ago my daughters, their boyfriends and I went on an overnight trip to the North Carolina mountains.  West Jefferson, one of our favorite little towns, was our destination for Saturday with kayaking on the nearby New River the headliner for Sunday.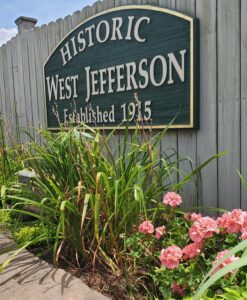 The year 2020 has simply been chaotic for everyone.  I have been blessed with a busier-than-normal work schedule.  The girls have been juggling work and school and the on-and-off again nature of life with COVID-19 seemingly at every corner.
Time is always tight, but with the 2020 challenges and the reality of another year passing by a few days away was much needed for all of us.
Historically I have been one of those "hurry up we have to see everything" vacationers; the one who arrives home wore out from what is always a failed attempt at seeing everything.  Hopefully, I have mellowed a bit in recent years; that combined with vastly different interests would have made "seeing everything" a real grind for all of us.
We arrived and did a few of the common interest things we all wanted to do before lunch and a wonderful vegan-ish spot.  We opted for an afternoon of individual interests.
My oldest is more into nature, so for her and her boyfriend it was a car ride up to the top of Mount Jefferson where they looked around a bit and opted for a nap.
My youngest is more of the shopper, she and her guy did the various neat shops in West Jefferson and ended up at a quaint little coffee shop people watching.
For me, it was finding a local brewery for some samples; a peak in some of the shops in town and some enjoyable "me time" slowing down and having a look around.
Later in the day we met up, went to the hotel before dinner at a spot we knew was going to be fantastic.  Mid-evening it was back to the hotel and from all accounts a good night of sleep.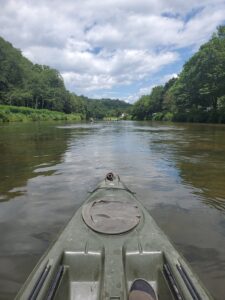 Sunday dawned; it was a fun little breakfast diner then an afternoon of kayaking in perfect weather.  As we wrapped up the kayaking there was agreement that pizza was the meal and a google-search for Pizza on the way home found another unplanned gem.
A fantastic pizza-brewery in North Wilkesboro called TwoBoros Brewery & Pizza was the spot and wow did that place deliver.   We each did personal pizzas, shared them around the table and found what is now one of our all-time-favorite pizza joints.
We arrived home with full bellies and full hearts; we were well rested and all grateful for an amazing getaway.
We also arrived home with a much better blueprint for future getaways – less structure, more down time and not afraid to try a unique pizza joint along the way.
A @SimplyBetter Getaway.
–Postman