I am a motorsports broadcaster; it's my dream job.  One of my projects is a show called "Winged Nation" covering winged sprint cars.  These 800 horsepower monsters – with huge tires and a big wing on top – are very popular at dirt tracks across the country.
The biggest event in winged sprint car racing is the Knoxville Nationals; when for a week in August the town Knoxville, Iowa quadruples in size from 7,000 residents to more than 25,000 passional sprint car fans.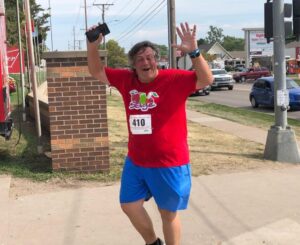 My career gives some minor "celebrity" status as I am part of a team that hosts live pre-race interview shows each night of the Nationals, bringing drivers and others on stage to kick-off the evenings racing.
With the growth of the Nationals other activities have been added during non-racing times; in 2018 a 4.10-mile (engine size of a sprint car is 410 cubic inches) run was added. The fun event included stops at beer stands and a bratwurst stand on a course that wound through the town and camping areas around the speedway.
As background, I had successfully gone 54 years of living without ever doing much in the form of exercise. That and some general unhealthy eating habits had me tipping the scales "well north of" 300 pounds. While I had no health issues, it certainly was not a good way to live.
At Knoxville, I was convinced to do the run – or in my case the walk – to help promote the event.  The idea was that while some serious runners would participate, this event was a fun way for our racing community to get a little exercise and it benefited a local hospital. I was the token out-of-shape guy who was motivating other like-individuals to have a few beers and get in a walk.
Race morning arrived; I made sure I was in behind the runners to stay out of the way. I jogged for about the first 30 seconds and then jogged again to the first beer stand to make it look good.
As the race wound through town with most of the runners ahead of me; I ended up alone on the course. An acquaintance of mine – Don Sweet – jogged up alongside; Don's son is Brad, one of the top sprint car drivers in the world. Brad would win his first Nationals about 36 hours later.
Don shared with me that he did intervals – walk a little/jog a little – and it worked well for him. We had a great visit and after his walk interval was done, he jogged off ahead of me.
I decided to give this "interval" stuff Don talked about a try and jogged a little and walked a lot.
I was enjoying the solitude of the walk/jog, which is something that caught me by surprise.
Yet, while there was solitude; there also were several people along the course shouting wonderful words of encouragement as I walked/jogged along the route.
With the beer stands behind me; I neared the finish line where a few had gathered, and the cheers grew louder. I was committed to "finish strong" even if mine was a slow-motion run to the end.
I crossed the line — legs throbbing, out of breath, heart racing – convinced that this was the end of my running career.
Turns out it was just the beginning.
I was overwhelmed by a sense of accomplishment. And, as I cooled down there were hugs and handshakes and high-fives like I rarely experienced before. I felt like I won the Knoxville Nationals.
As my body started to recover and I had the chance to think about it over the next few days; I knew I wanted to experience that again. Not only the euphoria of the accomplishment but also the moments of solitude while alone on the course.
I started to walk and jog at a local park and found it touched every part of my life:  physical, mental, and spiritual. It became something I wanted to do and ultimately needed to do.
The Knoxville race was in August of 2018, on November 2nd I was at the starting line for a 5K in my local community. I again experienced the same amazing feelings throughout the race and upon completion.
The running community is incredibly supportive of runners at all levels and that has helped drive me to recently wrapping up my 20th 5K with runs scheduled into the future.
Never in my life did I see this coming, in fact if you would have suggested it to me the day before that run in Knoxville, I would have called you crazy. I am grateful to my dear friend Kendra Jacobs, marketing director at Knoxville Raceway, who was the one who talked me into the event at the track.
Guess it's just a funny thing happened on the way to the beer stand.
Steve Post is a broadcaster, public speaker, emcee and voice-talent.