On Wednesday on my Twitter and my personal Facebook account I posted:
Why is there so much hatred these days?
We have disagreed with others our entire lives; but it seems like these days the first reaction is the spew hatred.
I am guilty of this and am working to try and guard my tongue/fingers… but dang, why have we all gotten so bitter?
I loved the responses; social media (the most common), politicians, media, lack of faith, "kids these days" and a few others.   And, they likely all have some validity.
AND, there is likely nothing (or at best truly little) we can do about any of them.
Although, I have had considerable success with my mission of "Positive Vibes on Twitter".  The block button has moved my Twitter feed from cesspool to sometimes "icky".  And, I am good with that.
My friend Doug Holmes concluded his thought on the topic with: "Hate is a destroyer; it will make you physically sick if you carry it around all the time.  As individuals with free will, we must choose to kick it and not succumb to that hateful trends that are happing now. That is where the toughest battle is, within us."
It is easy to point outward at social media or "kids these days"; but what about a look inward?
I read something and my fingers start typing.
I hear something and my lips start flapping.
On good moments I stop typing and flapping; other moments I do not.  And, then it begins.
There is so much happening, and it is so easy to get twisted up; but ultimately, it is on me…ultimately, it is on you.  It is on us, our free will, to stop the madness.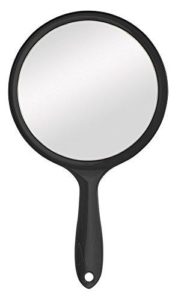 "I'm starting with the man in the mirror.
I am asking him to change his ways.
And no message could have been any clearer.
If you want to make the world a better place,
Look at yourself, and then make a change."
Today's goal:  a #SimplyBetter Man in the Mirror
-Postman